My Vegan creamy courgette risotto has coconut milk, deliciously prepared courgette and lots of lovely spices. I am so happy with the coconut milk and rice combination. I made a sweet version and I loved it, the recipe is here. This savoury side dish is amazing too, the creaminess from the coconut milk is just delightful. The addition of cardamom made the dish quite special. I will cook more with coconut milk, it's a fab ingredient and so versatile.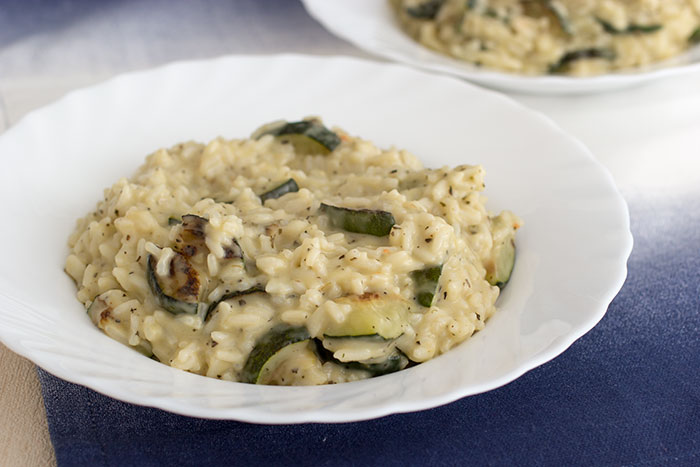 I made it as a side dish for a hearty meal or on its own.

We had it with Celeriac steak, similar with roasted celeriac, but cut a little thicker and brushed with oil mixed with spices (smoked paprika, salt, dried parsley).
Ingredients for 2 servings:
– 140g rice for risotto
– 200ml vegetable stock
– 400ml coconut milk
– 1 courgette
– 2 spoons of oil
– salt
– white pepper
– cardamom
– dried parsley
Heat up the vegetable stock. When it's boiling, add the rice and stir. Leave on the hob for 5-10 minutes. Pour the coconut milk and stir. Add cardamom, white pepper, parsley and salt, stir and leave the rice to boil until the rice is cooked.
Meanwhile, wash and cut the courgette into small pieces. Boil water and add the courgette cubes when it's boiling. Boil them for 4-5 minutes. Take them off the heat, drain and put the courgette in a bowl with cold water and ice cubes. This will keep them green.
Heat up the oil in a frying pan. Add salt and parsley and stir. Toss in the courgette pieces and stir or flip them. When they are ready, take off the heat and put them in the risotto. Incorporate and taste to see if there is the need for more spices.
Vegan creamy courgette risotto is now ready to be served.
Do you like risotto with coconut milk? Have you tried risotto with this kind of milk before?