I was so happy when I got the invitation for Christmas Bake Off. It was a really special event organized by Holland & Barrett. I had the chance to meet Ugne from Great British Bake Off, I baked a cake, we had lunch and cakes and lots and lots of fun. It was amazing.
The event was at Cactus Kitchen, the cookery school designed by Michel Roux Jr. There were a few hiccups for me to get there as the train had 10 minutes delay and at the tube station was so crowded it took ages to put a few pounds on my Oyster. But I got there in time, after a short jogging from the tube, excited to start the day.
We presented ourselves, telling the story of our blogs and talking a short while about our culinary background and preferences. I mentioned I baked along the Bake Off, of course. Most of the day I chatted with Katie and Carly. I hope I'll meet them again.
Then we head up to the kitchen. It looked lovely, so light and inviting. Everybody took out their phones and/or cameras and we all started to photograph the kitchen, the workstation, the decor. This is what happens at a blogger event, we bloggers like to take pictures of everything.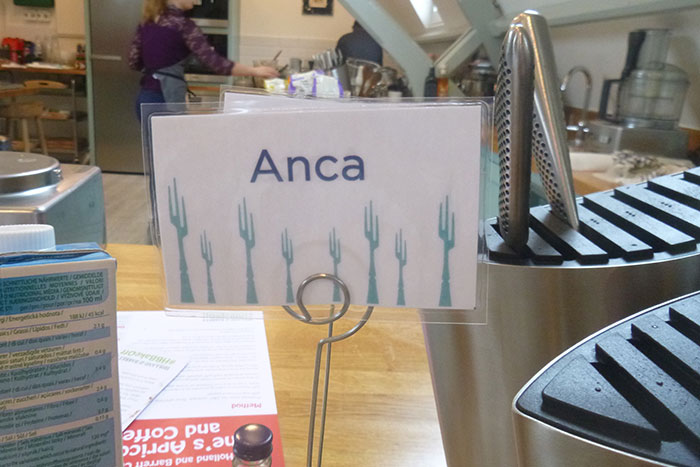 I went to my cooking workstation and I looked over the recipe. Ugne told us we can start baking and that we have 1 hour. I cook fast and I though 1 hour is such a long time for a simple recipe. That was before I started to peel the apples and the pears.
Ugne stopped and talked with me, told me I should sign up for Bake Off… at that point I was chopping the apples and my hands were shaking. I told her I don't think I'm good enough and she told me nobody thinks that. It was reassuring, but I was feeling the pressure. I looked around me and I saw I wasn't the only one shaking. Baking is serious stuff.
I put my chopped fruits with cinnamon on the induction hob. Induction is fab, it was the first time I've used an induction hob and I was impressed. I definitely had my pan on a lower heat than it should, but I can't blame the hob for that.
After chopping and measuring and mixing, my cake was ready to go into the oven.
The crucial moment of getting the cake into the oven was photographed in detail.
For decorations I went with a "rustic" approach and I'm not changing my mind. If you are reading my blog for a while, you might have seen my carrot cake baked for the finale of GBBO. So, it's obvious I have to go for rustic or abstract expressionism.
This is the proud moment when I show my creation, the cake, baked, decorated and ready for judging. That will follow.
Ugne showed us a recipe of hers, a wonderful cake with apricots and coffee. While she was baking we got the opportunity to talk with her and ask her questions about free from baking. It was very interesting and I realized that while I'm familiar with sugar-free baking, I don't know a lot about dairy free or gluten free.
I said it before that I'm not bothered about gluten. But attending this event made me reconsider what I can make with gluten free alternatives. It's exciting and I will try new ingredients like almond flour.
I had to have a picture with Ugne. She is such a lovely person, so warm and friendly. I loved meeting her. She is from Lithuania and told us how her mother used to make cookies with a meatgrinder and special accessories to shape them. The same tools are used in Romania too and I remembered when my mother was making the cookies like that for Christmas. It was lovely.
Next it was lunch. Beside the ham, everything else was vegetarian. I was happy to hear that, the food was delicious. It was surprising how much I've enjoyed the bread. I tried gluten free bread before, but the taste wasn't impressive. But this one was delicious.

Here we are back in the kitchen, waiting for the judging.
It was interesting to see how different the cakes were while we were all using the same ingredients and the same recipe. The star baker was Carly and she deserved it. I tasted her cake and it was delicious.
My cake was a little under baked, but I always say it's better to be under than over. Not that I wand to justify myself, but it was the first time I made that type of cake and I never used the oven before. At least there wasn't a soggy bottom.
After judging we went to have tea or coffee and a slice of Ugne's cake.
The cake was lovely, I enjoyed it. I have the recipe for her cake and for the one that I baked and it's very likely I will bake them again. I liked them both and hubby loved my cake and I'm sure he wants to try Ugne recipe too.
After a little over 2 hours in the train, I was back in Liverpool, taking my delicious cake to a husband eager to try it.
I also received a goodie bag, filled with lovely things. The mulled punch is delicious and I can't wait to try the rest.