I am thinking of Christmas bakes for a while now and I got a lot of fondant decoration tools to help me. While I was baking along the Bake Off I had the opportunity to use fondant and it was the push I needed. Now I'm more than happy to try to make interesting decorations out of sugar.
These Festive Wreath Doughnuts are easy to make and they are baked, so they are as healthy as a doughnut can be.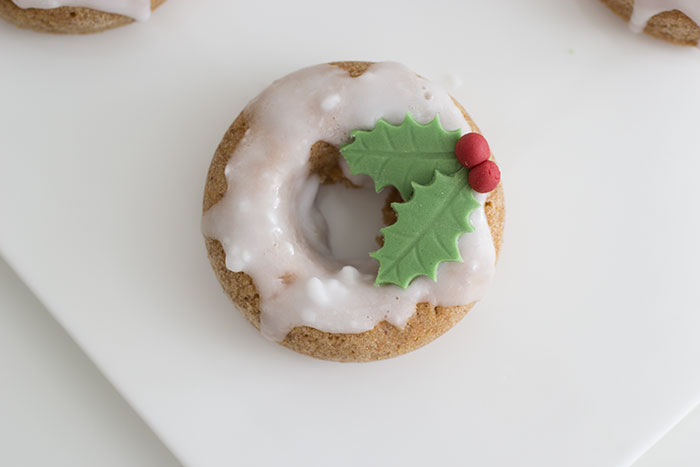 Ingredients for 6 doughnuts:
– 75g plain wholemeal flour
– 50g demerara sugar
– 1/2 tsp baking powder
– 1 egg
– 60ml milk
– 2 spoons of oil
– 1/8 tsp nutmeg
– 1/8 tsp ginger
– 1/2 tsp cinnamon
– 3-4 drops of hazelnut flavouring
– white, green and red fondant icing
– edible glue
– 2-3 spoons of icing sugar
Preheat the oven to 160C or 140C fan.
Make the batter by mixing the flour with the sugar, spices and the baking powder. Beat the egg with a fork, add the milk, oil and incorporate. Mix the wet ingredients with a spoon. Tip the dry ingredients on top and, with the same spoon, stir until all the ingredients are incorporated. You can use a hand mixer, but if you are making only 6 doughnuts, it's unnecessary to use, as there is only a small amount of batter.
Put the batter into the oiled doughnut baking tray and bake for 12-15 minutes. After you take them out of the oven, leave them for a couple of minutes in the tray. Take them out of the mould and leave them on a cooling rack until they are cold.
Meanwhile, make the holly by using a special cutter. The special cutters make the indent on the leaf and they are very easy to use. By hand it would take a lot of time and I don't have the skills to make them with this amount of detail. The cutters are available online and maybe in shops too. Make the red berries and glue them to the leaves with edible glue. Leave the holly leaves on the worktop that is sprinkled with icing sugar.
Soften a little bit of white fondant and add a spoon of water. Mix and add more water if it's necessary. When the icing has the right consistency, it can be poured, but not too runny and still has some white fondant flakes in it, pour it with a teaspoon. I was looking for this "snowed" look that the flakes give it. If you don't want any flakes, decorate them with the other icing.
Make a small amount of icing by incorporating the icing sugar with water until it has the right consistency. Pour it over the doughnuts. With care, transfer the holly leaves on top on the doughnuts. As the white icing is slightly sticky you don't need any edible glue.
These are my Festive wreath doughnuts. Easy to make and they look great.