Last time I went to the library, I noticed a new cookbook called Raw&Vegan 2 by Julie Van Den Kerchove. So, I borrowed it and there are a few interesting recipes, including one for overnight oats that I wanted to try. I didn't have all the ingredients, so I made it with what I had, this is how I ended up with Fig Overnight Oats. It's the first time I make them. I think overnight oats is a lovely idea. My husband and I prefer a more consistent breakfast, so we had it as a dessert. We both enjoyed it and I'm going to make more recipes of overnight oats.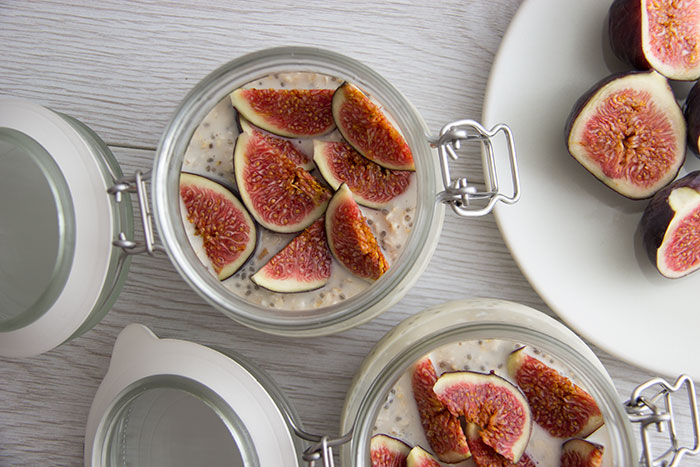 I used almond milk as I like the taste. To make it sweet, I used Sweet Freedom, it's a date syrup, similar in texture to golden syrup. I chose this date syrup as is a healthier alternative to sugar. Two teaspoons for each serving is not a lot, next time I'm going to put a bit more, to make it more dessert like. I left the recipe as I made it because, like this, is more suitable for breakfast.
Fig Overnight Oats. Ingredients for 2 servings:
– 100g rolled oats
– 4 tsp Chia seeds
– 4 tsp Sweet Freedom
– 420ml almond milk
– 1/2 tsp vanilla paste
– 2 fresh figs
Put the oats with the milk in jars. Add the Chia seeds, the sweetener and the vanilla paste, stir it with a spoon.
Put the lid on and put the jars in the fridge overnight. In the morning, stir the oats again with a spoon. Wash and cut the fresh figs and place them on top of the oats. The breakfast is ready to be served and it was that easy to make.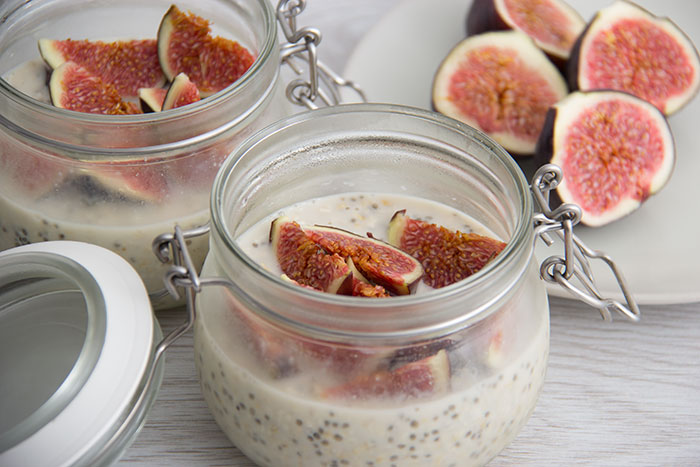 The only thing that might go wrong is if you don't weight in the ingredients and it will be too wet or it will absorb all the milk.
Do you like oats? What do you think of my fig overnight oats recipe?