I love Nachos. I had them for the first time at a restaurant a few years ago and I liked it a lot. It's something I would make often, but is the first time I share the recipe. I like sundried tomatoes and the baked green olives on top. The tomato sauce is made from fresh tomatoes, but canned tomatoes can be used, if you are in a hurry. Guacamole is also a great dip for them.
Because we eat as healthy as we can, we always have big bowls of dips with nachos, as it's filling and it even adds to the 5-a-day. I think this way it balances out all the cheese.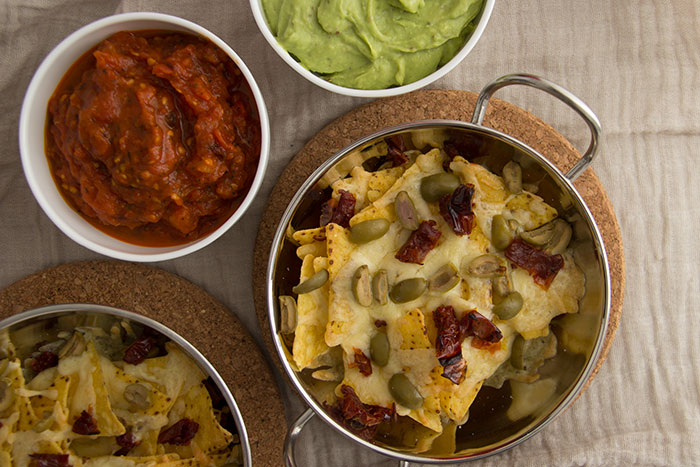 Ingredients for nachos:
– 100g tortilla chips
– 100g vegan grated cheddar
– 2 pieces of sundried tomatoes
– 10-12 green olives
Ingredients for tomato sauce:
– 5 medium or 4 big tomatoes
– 1 tsp chilli oil
– sea salt
– pepper
– dried herbs
Ingredients for guacamole:
– 2 ripe and ready avocados
– lemon juice
– 2 tsp Whole grain mustard
– sea salt
– white pepper
Make the nachos by putting a layer of tortillas, add the grated cheddar, the second layer of tortillas and top up with cheese. Chop the sundried tomatoes and the olives and toss them on top.
Heat the oven at 180C or 160C fan. Place the nachos dishes in the oven and leave them for 15 minutes, while the oven is getting warm. This way the cheese will melt slowly and the nachos will dry a bit and become more crunchy.
While the nachos are in the oven, boil water and dip the tomatoes into the boiling water. Leave them for less than 1 minute and take them out. This way the skins will come off easily. Chop the tomatoes, add the spices and put them in a pan over medium heat. Stir from time to time and cover with a lid. Keep the pan on the hob for 10 minutes, stirring from time to time.
For the guacamole, put the avocado flesh in a bowl, pour the lemon juice on top, add the mustard, the spices and blend with a hand blender. It's that easy to make and fast.
The lemon juice will keep the guacamole looking great for longer.