I only recently started to make polenta chips and I find them very nice. Polenta chips are naturally gluten free and low in calories. For two servings I used only 80g of cornmeal, this means that a side dish of fried polenta chips will have a little over 200 calories. The only downside of making polenta chips is the waiting time for the polenta to set, a few hours in the fridge. The polenta can be made in the evening and left in the fridge for the following day.
I know that some people don't make the difference between polenta and cornmeal, but it's quite simple. The flour is called cornmeal and it can be fine, medium and coarse. Polenta is the porridge-like dish. Cornmeal can be used for so many other recipes, like for potato wedges, Bok Choi with tofu and cornbread-cupcakes.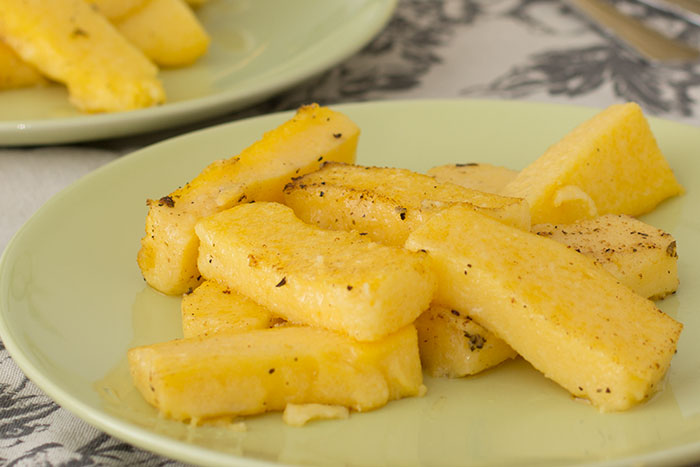 Ingredients for 2 servings of Polenta chips:
– 80g cornmeal
– 110g cold water
– 350g hot water
– salt
– white pepper
– 2 spoons of oil for shallow frying
– herbs
Start by making the polenta. Mix the cornmeal with the cold water in a bowl. In a big pan, bring the hot water to boil. Pour the cornmeal mixture, reduce the heat to medium and stir. The polenta will bubble, so put a lid on the pan when you are not stirring. Stir often so the polenta will not catch the bottom of the pan. Leave it on the hob for 10-15 minutes. On the packaging it says to leave it more, but I never do that and the polenta is cooked. Look on the packaging and add bit less water comparing to their instruction, so the polenta has a firm consistency.
Pour the hot polenta in a square plastic container that was previously held under running cold water. Don't dry it, just pour the polenta inside and a crust will form. It will not stick to it and it will be easy to remove after it sets. Leave it in the fridge to set for a few hours or overnight.
When you want to prepare the chips, take the polenta out of the fridge, flip it on a chopping board and cut it as chips. Heat a frying pan over medium to high heat and add the oil and herbs, if you want to. Reduce the heat if you think the oil will start to smoke. Place the polenta chips in the frying pan and leave them for 5 minutes, flip them and leave them for another 3-5 minutes.
Now the polenta chips are ready to be served.
Did you try polenta chips before?