I saw a similar recipe in a TV show and I thought it sounds intriguing. So I've decided to give it a try. This recipe can also be called cauliflower rice. After preparing the meal hubby asked me what I cooked and, let's say, he was reluctant. But, in the end, he actually loved it. The raw cauliflower is so tasty. I paired it with Linda McCartney vegan sausages and the meal was a delight.
The cous-cous is very easy to make, it took me only a few minutes to get it ready for serving. As the dish is raw cauliflower with spices and some rapeseed oil, it's amazingly healthy and very low in calories.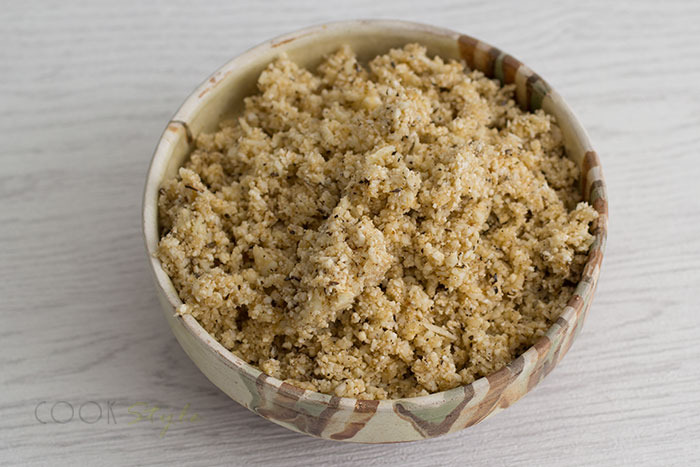 Ingredients for 2 big servings:
– 1 medium cauliflower
– 3 spoons of rapeseed oil
– sea salt
– smoked paprika
– dried basil and dried parsley
Wash the cauliflower and remove the florets. Put them in the food processor and blitz them until they look like cous-cous. Be careful not to overdone it, as this can turn the cauliflower into a puree. If you have a smaller food processor, put the cauliflower in batches. Tip the cauliflower into a big bowl.
Heat the oil slightly and add the salt and the spices. Stir for a minute. Remove from heat and pour the oil on top of the cauliflower. Stir with a spoon until all the oil is mixed into the cauliflower cous-cous.
The side dish is ready to be served.
Have you ever tried raw cauliflower cous-cous? If not, would you try it?