I made this type of pasta with soft cheese many times. When my husband asked how do I think they would turn out with ricotta, I just had to try. They are delicious and I will make them again and this is why I'm sharing the recipe.
As I didn't have any fresh mushrooms, I've used frozen ones, still as good. I usually use plum tomatoes in my recipes and this is what I used for this one.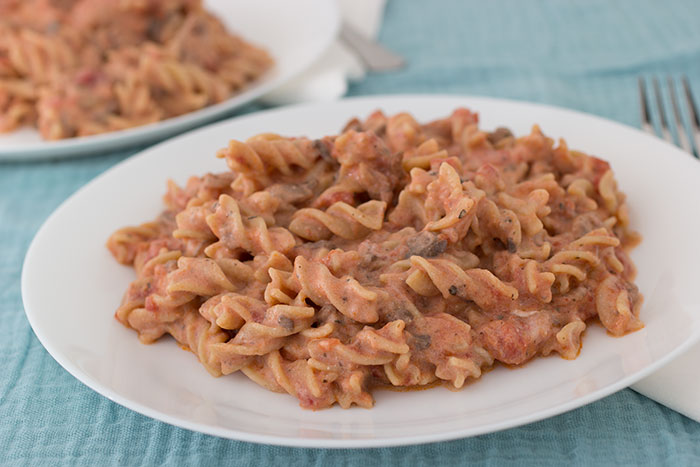 Ingredients for 2 servings of Ricotta and tomatoes pasta:
– 160g dried wholewheat pasta
– 250g ricotta
– 250g frozen mushrooms
– 2 spoons of oil
– 1 can of plum tomatoes
– salt
– pepper
– 2 tsp dried basil
– 1 tsp dried parsley
Boil the pasta according to the instruction on the packaging. Rinse it with cold water as soon as it's boiled, so it will not get overdone.
While the pasta is boiling, make the sauce by heating the oil in a big saucepan. Toss in the mushrooms and stir. Leave them on the hob and stir from time to time. Meanwhile, using a fork prick the plum tomatoes from the can. You can use chopped tomatoes, but I find that plum tomatoes are better quality than ready chopped ones.
Add the tomatoes over the mushrooms, the spices and herbs and stir. Leave on the hob for 5 minutes or so. Take off the heat. When the pasta is ready, add it to the tomato sauce along with the ricotta. Stir so all the ingredients are incorporated.
Now the pasta is ready to be served.
As you can see, it's very easy to make and it has the creaminess of the cheese, two veggies and lots of fibers from the pasta. I use Organic wholewheat pasta as I really like the taste, I found one that it's great value for money and it has around 7g of fibers per servings (28% of the recommended daily intake).