Nothing tastes better than a homemade bread taken out of the oven. I try to bake my own bread as much as I can, because my husband and I both enjoy a warm slice of freshly baked bread.
Baking bread is very easy. I've made many types of bread, like Rye plait bread, Potato bread, and Fougasse. You can add all sort of things to the bread to make it even more interesting, like seeds, herbs and/or spices, chili oil.
Ingredients for 1 loaf of Wholemeal bread:
– 500g wholemeal flour
– 10g yeast
– 5g sugar
– sea salt
– 300ml to 320ml water
– oil for oiling the baking tray
Put all flour in a bowl and put the salt on a side. Make a well and add the yeast and the sugar. Pour the lukewarm water on the yeast. Stir with a spoon until a dough is starting to form. Tip the dough over the worktop and incorporate the flour. Knead the dough for 10 to 15 minutes. The dough should be sticky, but not too sticky. Cover the dough with a tea towel and leave it in a warm place to prove for an hour. It should double in size.
After the dough doubled in size, toss the dough back on the worktop. Oil the baking tray and put it in the tray. Cover again with the tea towel and leave it to rise again for 30 minutes to 1 hour.
Meanwhile, preheat the oven at 180C fan or 200C for conventional oven.
Here you can have a couple of options. The easiest one is to put the baking tray in the oven and bake it for 30 to 40 minutes. Try it with a wooden skewer to see if is baked all the way through.
The second option is to put a pizza stone to heat up while the oven is heating up. When is hot, place a baking tray with boiling water on the bottom of the oven. Transfer the bread over the pizza stone. The steam will make the bread have a better crust.
This time I've used the simpler method to cake, without steam.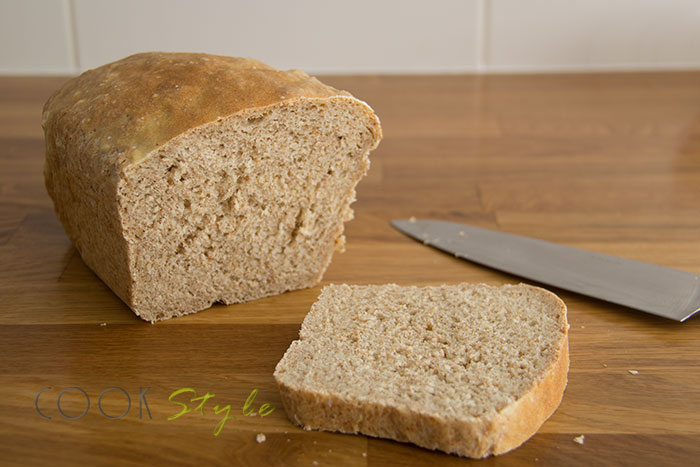 The bread is now ready to be served. You can freeze the entire loaf or a part of it. Cover it with cling film with care, so the whole bread is covered. To defrost, put the bread in the fridge overnight. You can heat it up before serving or toast it. It will be great.
Do you like wholemeal bread? Do you like baking bread? Let me know in the comments below.