This is a traditional Panamanian recipe for Coconut Rice with Red Beans. I've made this recipe on the same day as the Panamanian Johnnycakes and we did enjoy both dishes. In the beginning, I was a bit apprehensive not to add any other spices in the rice, besides sea salt and white pepper (white so it doesn't show in the dish, you can use black pepper if you prefer). I've made rice with coconut milk many times, like this creamy courgette risotto, and I always add cardammon in it, I think that gives it the taste of a savoury dish. I was wrong, as the coconut rice with read beans, using the traditional recipe, is very tasty and not too sweet at all.
Coconut Rice with Red Beans, Arroz de coco con frijoles rojos, has a couple of variations in the Panamanian cuisine. Coconut rice can be made with black beans or pigeon peas. I will try these variations, as I've enjoyed the dish a lot. In addition, is not only delicious, but is healthy too, a filling dish that also has 2 portions of veggies from the recommended 5 a day.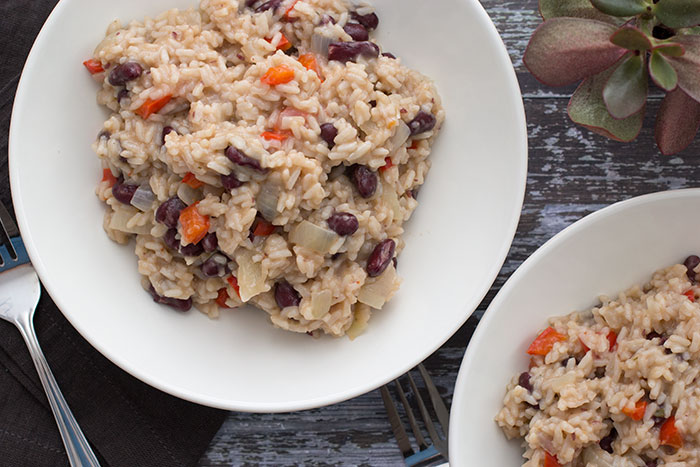 This dish is naturally vegan, I didn't change anything to "veganise" it. Hence it makes for a nice addition to my ever growing list of vegan recipes.
Ingredients for 2 servings of Panamanian Coconut Rice with Red Beans:
– 200g long grain rice
– 500ml vegetable stock
– 200ml coconut milk
– 1 onion
– 1 red pepper
– 2 spoons oil
– 1 can of red beans
– sea salt, white pepper
Start by washing, peeling, and chopping the onion and the red pepper. In a pan, heat the oil and toss in the vegetables. Leave the onion and pepper to cook for a few minutes, stirring from time to time. Meanwhile, in another pan, bring the vegetable stock and the coconut milk to boil.
Wash the rice and add it to the pan. Stir and leave to cook for a minute or two. Pour the stock over the rice and stir. Add the drained red beans and stir again. Add salt and pepper and stir. Leave to cook over medium heat.
The rice will take around 15 minutes to cook. Add more salt and pepper if you think is necessary. Taste the rice to make sure is boiled. The dish is now ready to be served.