Cozonac is a traditional Romanian sweet loaf. This is my family's special recipe, passed down from my grand-grandmother. This dessert is made for Christmas, Easter and other special occasions.
Usually the loaf is filled with walnuts, raisins, Turkish delight and cocoa. As I've made it specially for my husband, I skipped the raisins, as he doesn't like them.
Ingredients for 2 loafs:
– 600g plain white flour
– 400g strong wholemeal flour
– 2 eggs
– 500ml milk
– 100g sugar
– 25g yeast
– 25g cocoa
– 300g Turkish delight
– 80g almonds and cashew
– mixed peel
– Rum flavour
– Vanilla paste
The milk and eggs have to be at room temperature, so get them out of the fridge half an hour before you start making the dough. Also, I've used only 100g sugar, so the loaf is not very sweet. It's a personal preference, so don't be afraid to add more sugar. You can use only white flour, but I like the taste of the wholemeal.
I had to change the walnuts for almonds and cashew as I've realized too late I don't have any walnuts.

Mix the 2 types of flour together and make a well for the liquid ingredients. Dissolve the dried yeast in warm milk, leave it on the worktop. Beat the eggs until blended, then add the sugar and continue beating them for another minute.
Then add the milk, yeast and eggs to the flour, the mixed peel and vanilla. Mix them gently with a spoon, then remove a third of the mixture for the black dough. I add oil when I'm kneading, to be easier to keep my hands clean of dough.
Knead the white dough for a few minutes and leave it to rest on the floured worktop. Then add the cocoa and Rum flavour to the black dough and knead it. Cover the dough with a tea towel and leave it to prove for an hour.

The dough is ready when it's doubled in size.

Cut half of the white dough and flatten it on the floured worktop using only the hands. Do the same with half of the black dough and put it on top of the white one.
The Turkish delight is easier to cut into pieces if the knife is floured.

Scatter pieces of Turkish delight and nuts, leaving a small gap in the middle.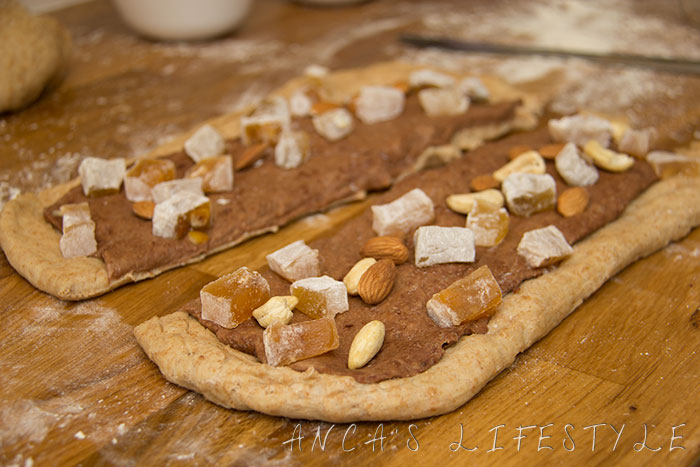 Cut the dough in 2.

Then roll each piece. Be careful not to have Turkish delight getting thru the dough. It can burn in the oven and it will become bitter.

Make a plait with the 2 strands of dough.

Cover the dough with a tea towel and leave it to prove for another hour.

The dough doubled in size again.

Brush the loafs with a beaten egg wash and sprinkle some sugar on top. The loafs are ready for baking.
Preheat the oven at 180C/160C fan and bake it for 40-50 minutes.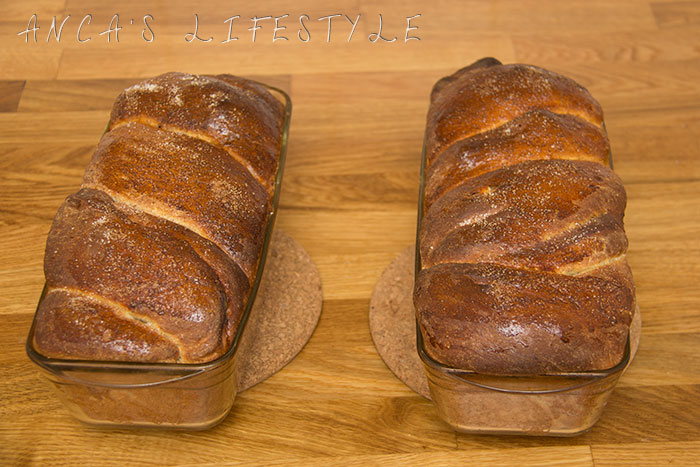 I hope you've enjoyed this recipe.