Kerstkrans is a Dutch cake made for celebrating St. Nicholas Day. There are some traditional biscuits too, I made them and I'm going to share the recipe for those in a couple of days.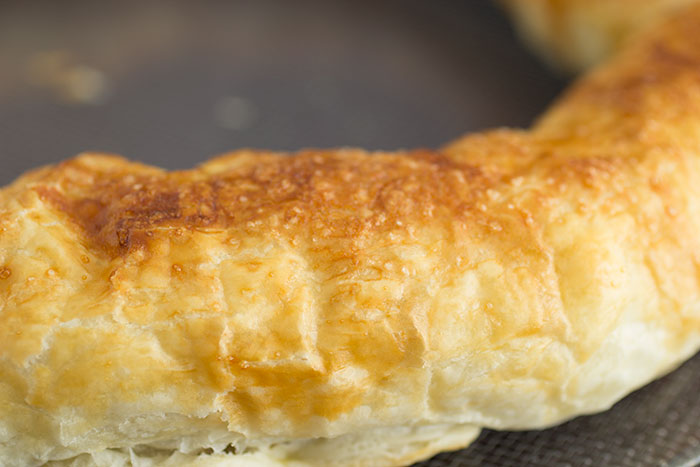 You can read about St. Nicholas Day and traditions regarding this day on my lifestyle blog, ancaslifestyle. Krestkrans is made with puff pastry and filled with almond paste. I made my own take with almonds and hazelnut brittle. It is a delicious dessert, I'm delighted I've baked it.
Ingredients:
– 1 pack of light ready-rolled puff pastry
– 110g hazelnuts
– 240g almonds
– 150g sugar + 1 spoon for sprinkling on top
– 2 eggs
– 5-6 drops of Orange flavouring
Make the hazelnut brittle by caramelising 100g sugar. Add 100g of ground hazelnuts and stir. When the hazelnuts are incorporated, pour the mixture onto baking paper and leave it to cool. Grind it into small pieces when it cooled down. Make the almond paste by mixing the brittle, almonds, hazelnuts and sugar. Add an egg and mix. Beat the other egg and add more egg mixture until the paste is made. The paste shouldn't be sticky. The remaining egg will be used to brush the top of the wreath.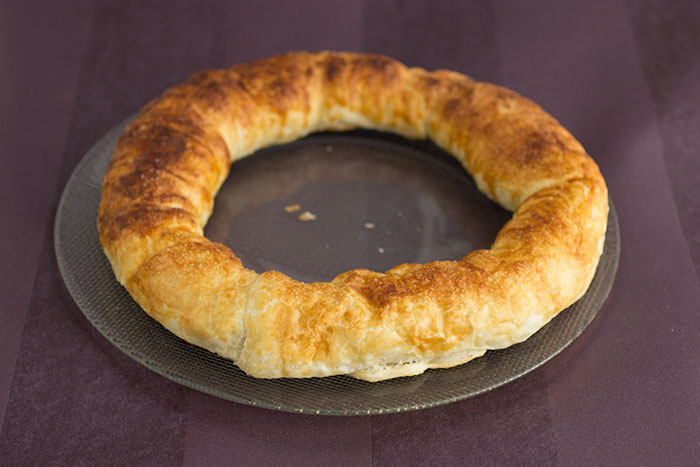 Pre-heat the oven at 200C or 180C fan. Make the wreath by stretching the puff pastry. Cut the puff pastry in half on the length and unite the two parts of the pastry. Mold the almond paste into a sausage-shape and put it on the middle of the pastry. Cover the paste with the pastry and make the wreath. Transfer the wreath with care onto a chopping board. Place a piece of baking paper on top, put the baking tray on top and flip it. This way the wreath can be transferred in one piece on the baking tray. Brush with egg mixture and sprinkle sugar on top.
Bake the Krestkrans for 20-25 minutes, until is baked. Take it out of the oven, transfer it on a cooling rack and leave it to cool. You can decorate it with icing or just leave it as it is.
Do you celebrate St. Nicholas Day?