I've had Padron Peppers in a Spanish restaurant once and I loved them. The dish was called Pimientos de Padron, that's Spanish for Padron peppers. Most of these peppers are mild and they have a slight savoury bitterness. However, one might be hot and spicy. That makes the dish exciting as well.
When I finally found Padron peppers in shops I was so excited that I made them twice and I plan to buy some more this week, if I can still find them. In restaurants this dish is served as a tapas, so it is versatile. You can enjoy it with other Spanish tapas or, as I did, with a big bowl of houmous.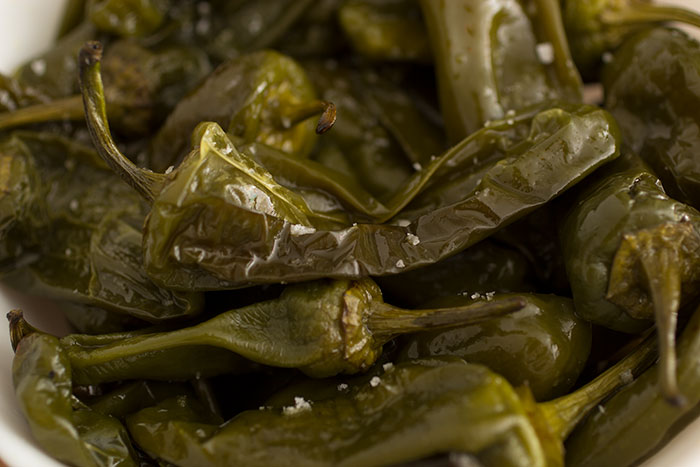 The dish is so easy to make. I've only used three ingredients: Padron peppers, oil, and sea salt. I've baked them because it is easier to cook them this way. You can use some fancy salts as well, like a smoky salt. I used basic sea salt and they were delicious.
Ingredients for Padron Peppers, 2 or 4 servings:
– 300g Padron Peppers
– 2 spoons of oil
– sea salt
Start by preheating the oven to 200C or 180C for fan assisted ovens.
Wash the peppers. In a frying pan or baking tray, put the peppers and drizzle the oil on top. Shake the pan or turn them using a spoon, so the peppers are coated in oil. Put the pan in the oven to cook for about 20 minutes. Half way through, take the pan out and shake it. Of course, you can turn them with a spoon.
Alternatively, you can fry the peppers in over heat, using a bit more oil. I prefer baking them, as it involves less work.
When the peppers are ready, sprinkle sea salt on top and serve them hot.
Have you ever had Padron peppers before?