One of the first recipes I've made with fresh pasta was Lasagne. I made a simple, easy recipe with tomato sauce, mushrooms, soy mince and cheddar.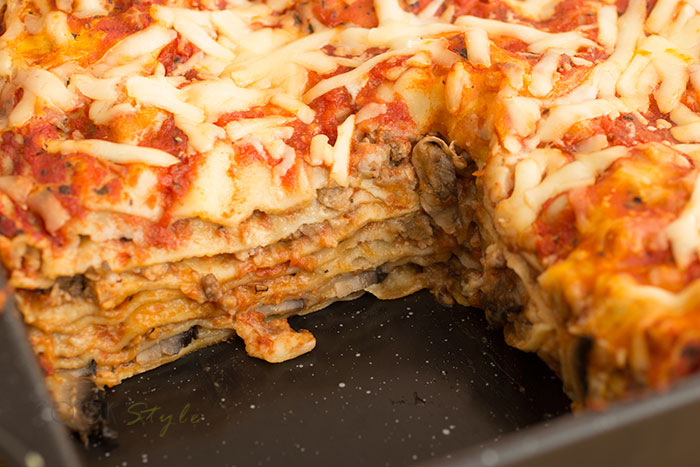 Ingredients for 6 servings of Lasagne:
– Fresh pasta from 200g flour with 2 eggs
– 2 cans of plum tomatoes
– 2 cans of tomato paste
– 1/2 pack of soy mince (200g)
– 250g mushrooms
– 150g vegan cheddar, gratted
– salt, back pepper
– dried basil, oregano, garlic powder and parsley
Tip the plum tomatoes can on a plate and mash it with a fork. This way bits of tomatoes will go through the sauce. If you prefer a smoother sauce, put all the plum tomatoes into a food processor and blitz them for less than a minute. In the tomato sauce add the tomato paste to thicken it, the salt, pepper, basil, oregano, garlic powder and parsley. Taste and add more spices if you think it's needed.
Wash and tap dry the mushrooms with a kitchen towel. Cut them in thin layers and set them aside. When everything is ready to prepare the lasagne, preheat the oven at 180C or 160C fan.
Make the pasta and cut it so it fits in the baking tray. Roll the pasta gradually as you make the lasagne, or the pasta will dry out.
Oil the tray, so it doesn't stick to the bottom of the tray and put the first layer of pasta. Put 3 spoons of tomato sauce and coat the lasagne sheets with it.
Put soy mince and mushrooms, some cheddar on top of the sauce. Place two more lasagne sheets afterwards.
Add more layers of pasta and mince or mushrooms. Tomato sauce should be on every layer, so the pasta has enough moist to cook.
On the last layer, put only some grated cheese.
Place the lasagna in the oven and let it cook for 35-45 minutes.
This is my recipe of Lasagne with mince and mushrooms. I hope you like it. Enjoy.