I haven't made a Vegan Pizza for a while. It seems I always prefer to make vegan pasta, but pizza not so much. Earlier this month I've been to a fab cocktail bar in London, which have a unique theme, Breaking Bad. There my husband and I had some pretty awesome vegan pizza. It reminded me how much I love the vegan cheese that melts so nicely, so I bought a couple of vegan cheeses and made my own pizza. I have to say that both of us loved it so much that it might become our go-to pizza from now on.
Of course, there are lots of vegan ingredients that would be lovely on a pizza, like onions, mushrooms, grilled peppers, tomatoes. But I wanted something simple, so I've put only capers and black olives. I know the combination works great and it did.
For the pizza I've used my basic bread recipe. For the pizza you see in the picture, I've used a third of the ingredients listed there. The slight modification was that I've made the bread dough with both strong wholemeal and strong white flour.
Ingredients for a big vegan pizza:
– pizza base, see my previous explanation
– 40g Violife Original Flavour Grated
– 40g ASDA Free From Mature Cheddar Alternative
– capers
– black olives
– pizza sauce
– a few basil leaves
Ingredients for the pizza sauce:
– 1 can of chopped tomatoes
– 1 teaspoon of chilli oil
– a dash of balsamic vinegar
– 1 tsp dried basil
– salt
– dried garlic, just a pinch
Start by making the bread dough and leave it to rise. Meanwhile, make the pizza sauce by pouring the chopped tomatoes in a bowl, add all the spices and blend all the ingredients together.
Pre heat the oven at 180C or 160C for fan assisted ovens.
I've baked my pizza on a pizza stone. If you don't use a pizza stone, you can put the pizza on a baking tray and pop it in the oven. It's a bit easier.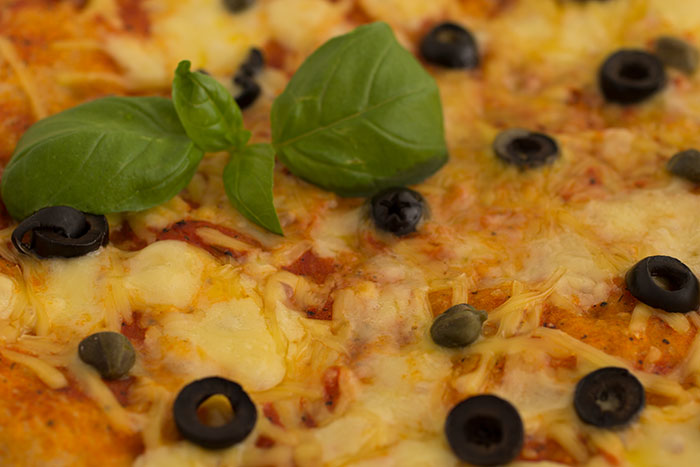 If you are using a pizza stone, like I did, put the stone in the oven to heat. Then spread the bread dough on a baking paper. Pour 3 or 4 spoons of tomato sauce and spread it with the back of the spoon. Sprinkle the cheese on top, toss the capers and the olives. When the oven is hot, transfer the pizza with the baking paper on top to the stone. Leave to bake for 12 minutes, flipping it after 10 if you don't use the fan oven.
Take the pizza out of the oven and remove the baking paper. Put the basil leaves on top and the vegan pizza is ready to be served.
Do you like vegan pizza? What toppings do you put on your pizza?