I've made a few recipes with the mulled wine flavours and I liked all of them so much, I've thought of a new one. Mulled Wine Creme Brulee is a great recipe for Christmas, it's very easy to make in advance and keep in the fridge for the day. The only thing to do before serving is to caramelize the sugar and that takes a minute. I think Creme Brulee is one of my favourite desserts, soft, but with an intense flavour.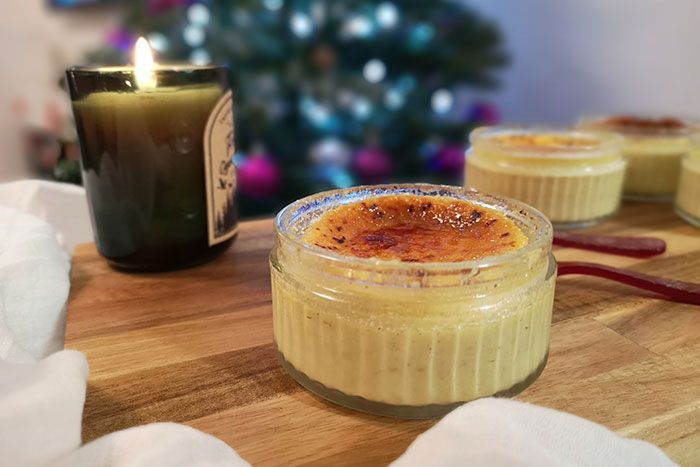 To make it richer, I've used double cream, but if you want, you can use single cream with similar results. I mentioned how much spices I've used, but you should add more or less, depending on your taste. Also, the Brandy flavouring is a must to give it the impression of real mulled wine, that slight bitterness of alcohol, but without the alcohol. You can use Rum flavouring, but that might change the taste a bit too much.
Ingredients for 4 servings of Mulled Wine Creme Brulee:
– 300ml double cream
– 60g sugar and another 20g for the top
– 3 egg yolks
– 6 Juniper berries
– 1/2 tsp cardammom
– 6 cloves
– 1 star anise
– 1/2 tsp Brandy flavouring
Beat the egg yolks with the sugar until it becomes pale and fluffy.
Preheat the oven at 160C or 140C for fan ovens.
Meanwhile, in a saucepan, put the dry spices and heat them gently to release their flavour. Do not keep them on the hob for too long or they will burn and become bitter. Pour the cream over the spices, and leave it on hob, at medium heat. When the cream is boiling, take it off the heat and pass it through a sieve. Pour the cream back into the saucepan, add the Brandy flavouring and the egg yolks. Stir continuously for a minute. Now is time to pour the mixture into the ramekins. Put the ramekins in a baking tray and fill the tray with hot water. Place the baking tray in the oven and bake the creme for 35 minute.
Remove the baking tray from the oven and leave the creme brulee to cool. When cold, put them in the fridge. Just before serving the creme brulee, add a teaspoon of sugar on top of each ramekin. Cover all the creme with sugar, using the back of the teaspoon, and caramelize it with a blow torch. Leave it for a minute to harden and serve it.
Have you ever heard or made mulled wine creme brulee before?