This recipe of mushroom salad is well known in the Romanian cuisine, see here more recipes from when I cooked Romanian for Taste the World.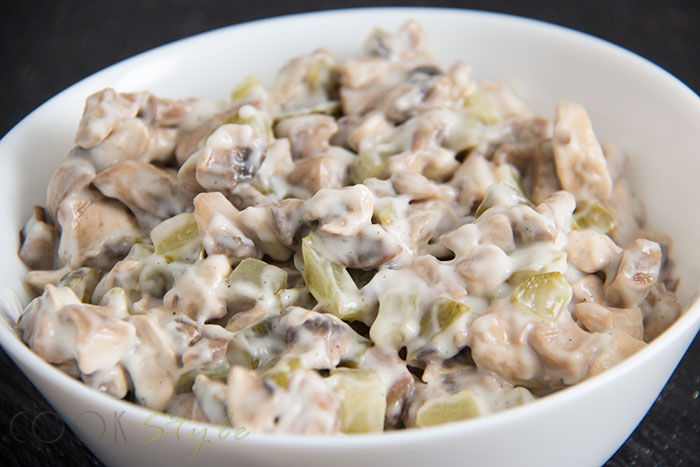 Ingredients for Mushroom salad:
– 400g mushrooms
– 3 spoons of vegan mayo
– 3 pickled cucumbers or cucumbers in brine
– salt, pepper
To make the salad, chop the mushrooms and put them in a bowl. Pour boiling water on them and put a lid on top of the bowl or pan to keep the steam in. After 10-15 minutes tip the bowl in a drainer and let them drain very good. If there is still water left, the mayo will changed its colour.
You can either let them drain for a couple of hours, I do that if I have other things to do. Or you can squeeze them in the hand to remove the extra moisture.
When the mushrooms are prepared, add the spice, the mayo and the chopped cucumbers. Mix all the ingredients and the salad is ready to be served.
The dish is great on its own, but it also works great as a side dish. I hope you liked my recipe.