After China, the second country I've decided to go with was very hard for me: Romanian cuisine. Considering that I was born and bred there, finding a dish that I didn't cook before was challenging. I've asked some friends for advice, as they are from different parts of the country and knew regional recipes.
I decided to make 3 dishes. The first one was new for us, the second one was hubby's choice and the last one was new for hubby. polenta fried dumplings (recipe), pea stew (recipe) and plum dumplings (recipe) for dessert. I had plum dumplings as a child, but for an unknown reason, never cooked them.
If you want to try more Romanian recipes, see also: aubergine caviar and sweet fruit loaf (cozonac). I don't cook Romanian often as I prefer to try new dishes and flavours. If I'll cook more Romanian dishes in a traditional way, I'll add them here. I will do the same with all the other countries or regions.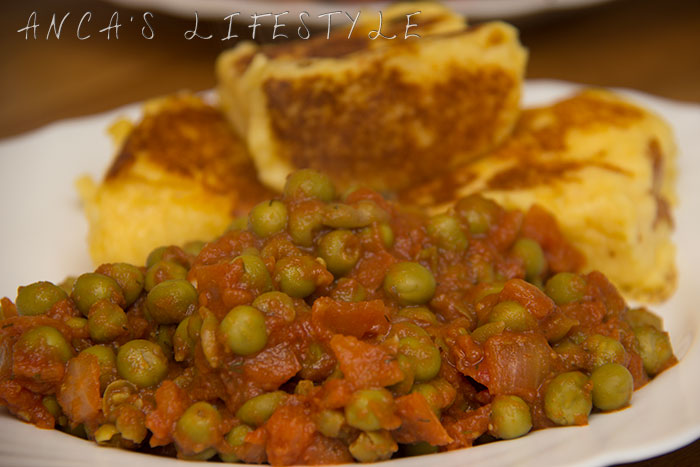 Polenta fried dumplings and pea stew. I liked the polenta dumplings a lot, they are tasty. I ate a lot of polenta with cabbage rolls; with soured cream, grated cheese and fried egg on top. I never tried to fry the polenta and it's so good.
Now I have new ideas, to make pancakes from polenta. Not sure how much I can work with the made polenta, I have to try it. Yesterday I've tried to handle it as little as possible, as I wanted to follow the recipe.
Plum dumplings or gomboti.
I had them so many times as a child, but as a teen my mother stopped making them, not sure why.
They are easy to make and it's a healthy recipe which tastes amazing. It's a great dessert for diet as I used only 50g of sugar to make 10 dumplings, that is the equivalent of 1 teaspoon of sugar per portion.