I made beautiful mince pies last year and now I rather make them at home instead of buying them. I wanted to make a healthy version, so I came up with a vegan sugar free mince pies recipe.
Hubby was reluctant because a sugar free dessert doesn't sound too luxurious. But he ate 6 in a day, so it's safe to say he loved them. I can say I'm very happy with how the vegan mince pies turned out. They are very tasty and they look beautiful.
Ingredients for mincemeat for 12 Vegan mince pies with pineapple, coconut and figs:
– 250g fresh pineapple
– 200g dried figs
– 100ml pineapple juice
– 50g date nectar
– 25g dried goji berries
– 2 small apples (175g)
– 25g desiccated coconut
– 25g grounded almonds
– 12 halves of walnut
Put the goji berries in a glass with the pineapple juice and leave them to soak the juice, after 10 minutes add the desiccated coconut. Chop the fresh pineapple and the apples in small pieces. Put the pineapple and the apples on the hob at low to medium heat, stirring once or twice. Leave them on the hob for 15-18 minutes. The fruits should be soft.
Remove the fruits from the heat and add goji berries with the juice and the coconut, the dried figs. Mix them and the mincemeat is done.
Leave it to cool for 20 minutes. Meanwhile you can make the pastry. The date nectar and the grounded almonds should be added just before the pies will go in the oven.
Ingredients for the vegan pastry for Vegan mince pies with pineapple, coconut and figs:
– 100g plain white flour
– 100g plain wholemeal flour
– 90g coconut oil
– 10g date nectar
I have to point out that the dough is harder to work with than regular pie dough. If you aren't familiar with shortcrust pastry, use margarine instead of coconut oil (or butter if you are not keen to keeping them vegan).
Mix the hardened coconut oil and date nectar with the flour using the hands until it resembles breadcrumbs. Add a few spoons of water, one at time to make the dough easier to work with. Knead the dough very quickly on the worktop. Rest the dough in the fridge for 15 minutes, then it's ready be to rolled. As the dough rests, pre heat the oven at 200C / 180C fan.
It's easier to roll out the pastry with a plastic or acrylic rolling pin, the ones that are used for icing, instead of the usual wooden rolling pin. Cut them into round shapes and put them in the oiled baking tray. Scoop the mincemeat into the pastry casings and put a half of walnut on each pie.
Bake the mince pies for 20 minutes.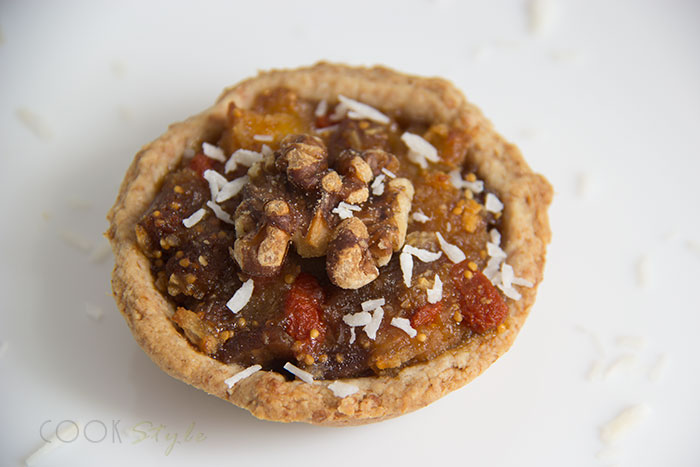 Sprinkle some desiccated coconut on top for decor and the mince pies are ready to be served.