I've made pesto pasta before, Spinach Pesto Gemelli and Pasta con Pesto, and I knew how delicious it can be. So, I had some vegan cheddar-style cheese, and I've decided to make Vegan Pesto Pasta for lunch. It is one of those dishes that takes only a few minutes to make, around 15, so it's perfect if you don't have a lot of time to spend cooking lunch.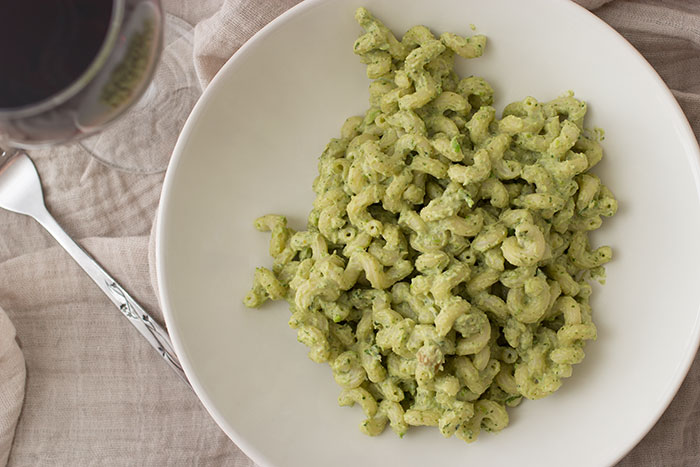 To make the pesto I've used cheddar style vegan cheese. It worked really great and I didn't see any difference between this one and the dairy version. The role of cheese in pesto is to add richness, as the cheese taste is almost overpowered by the intense flavour of the basil. Thus, I don't think many people could notice a difference in taste. Why not make a cruelty free dish if is possible?
I've made another alteration to the recipe because I've added 25g of pine nuts and 25g of walnuts. I did that because I didn't have enough pine nuts and I didn't fancy a trip to the shop for more nuts. It works, so you can use what you have at home, or only pine nuts to a more authentic taste.
Ingredients for 2 servings of Vegan Pesto Pasta:
– 165g Pasta
– 50g fresh basil
– 65g grated vegan cheddar
– 1 clove of garlic
– 25g walnuts
– 25g pine nuts
– 2 spoons of oil extra-virgin Olive oil
– sea salt
– white pepper
Start by boiling the pasta according to the instructions of the packet. I boiled them for 10 minutes this time. Drain and rinse the pasta in cold water so they don't continue cooking.
While the pasta is on the hob, boiling, you can commence preparing the pesto sauce. Put the pine nuts and the walnuts in a non-stick frying pan over medium heat and stir or shake the pan so they don't burn. Alternatively, you can use them raw. It works either way. Wash the basil leaves and leave in the collander to drain.
In the bowl of the food processor, or using a hand blender, blitz the nuts with the cheese, the basil, the crushed garlic, the spices, and the oil. It should be a smooth paste. Tip it on top of the boiled pasta and stir. The dish will be ready to be served in a minute.
Pair it with a glass of red wine and enjoy.