I thought it would be a good idea to share a round up of my vegan soups. All of them are easy to make and all are delicious as well. Each name links to the recipe, so you can check out the recipes that intrigue you.

Ajiaco is a recipe that originates from Colombia, South America. It is the most unusual soup I'm sharing today, it's a potato soup with avocado and corn. You will need two types of potatoes for this soup, but is worth the effort.

Bean Soup is something my mother used to make when I was a child. My husband and I both love the soup and it is one of those dishes we have a few times a year. With ready boiled beans, it is very easy to make.

This Sweet potato and parsnip soup is another filling and warming soup that is great on a cold day. A must try if you like soups.

Just like the bean soup, this Lentil Soup is very similar to the ones my mother used to make for me. It's filling and very good.

I was inspired to make Chilled pea soup after having a delicious meal in a vegetarian restaurant in Manchester. It is amazing and so good for summer, refreshing and tasty.

A slightly different kind of soup, the White Fennel Soup is lovely and light. I did enjoy it a lot.

The first times I made this Tomato and cauliflower soup was for a challenge I was making, having a bowl of soup or a smoothie each day. This happened three years ago and I still have soup or smoothie almost every day. It was a great challenge to do.

This Carrot and coriander soup is a well known soup in Britain and it is one that I enjoy eating. For me, this is the best way to cook and eat carrots.

Beetroot and garlic soup is one of the dishes I've created myself, although there are lots of recipes out there, I didn't look for one before making this soup. I like the combination of beetroot and garlic, it works really nice.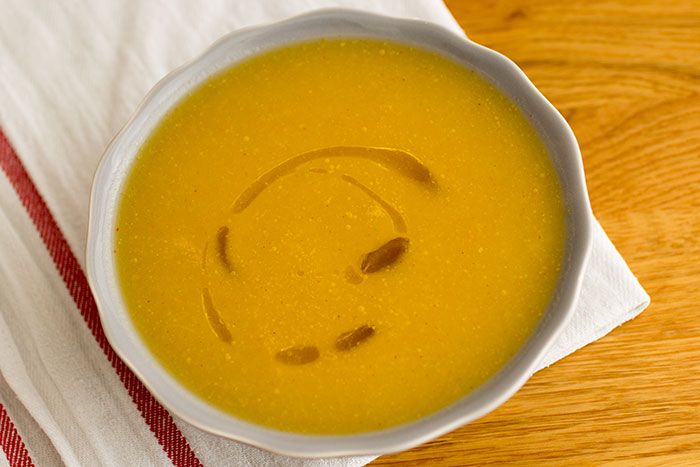 Sounding Autumnal, Vegan roasted pumpkin soup is perfect for the cold days. The roasting of the vegetables makes them amazing, so do try it.

Spring Onion Soup has a rather funny story. I was planning to make the soup and I was buying spring onions, but we kept eating them before I got the chance of making the soup, and so we bought and eat spring onions a few times before being able to make the soup.

Cauliflower and Pepper Soup is another smooth soup that I like. It is one of those soups that is lovely to eat on both a cold or a warm day.

Celeriac soup is really good. I flavoured this soup with tarragon and, for me, it works. Feel free to use other spices if you are not keen on tarragon.
Hope you liked the round up. I'm going to add more soups to the round up when I make them.