I've made Ramen before, it's something so different for my taste and I enjoyed it. Recently I've made a different recipe of vegan Ramen with coconut milk and dried lily flowers. My husband and I both loved this Vegan Ramen.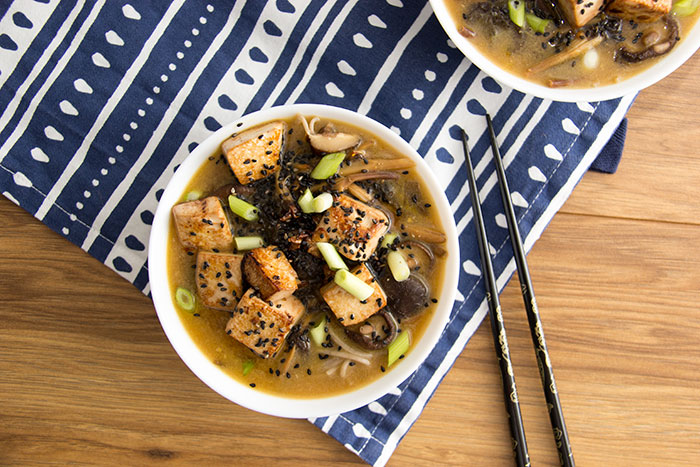 In my recipe I've used cocoa buckwheat noodles, but it will work with any type of noodles. I didn't have fresh shiitake mushrooms, but only dried ones. If you have fresh ones, use those, if not, follow my recipe. It's the first time I use dried lily flowers and I was pleasantly surprised. Their texture is lovely and the taste is mild and really nice. I will use them again. It takes a 30 minutes wait for the dried veggies to be re-hydrated. This is what takes the longest time to do. The rest of the cooking takes only a few minutes.
Ingredients for 2 bowls of vegan Ramen:
– 75g cocoa noodles
– 400ml vegetable stock
– 200ml coconut milk
– 130g tofu
– 10g dried shiitake mushrooms
– 10g dried lily flowers
– 1 spoon of miso
– 1 spoon of sesame oil
– 4 tsp soy sauce
– black sesame seeds
– 3g seaweed
– 2 small spring onions
The first thing is to soak the dried veggies in boiling water. I put them in different bowls, poured the water on them and covered the bowls with a plate. The lily flowers and the mushrooms need 30 minutes to re-hydrate, you can put them together in a bowl, this is what I'm going to do next time. The seaweed only takes a few minutes. When the flowers and mushrooms are ready, take them out of the water. Cut the big mushrooms in half.
In a pan, bring the vegetable stock to boil with the coconut milk. When it starts boiling, toss in the mushrooms and the lily flowers and stir. Leave to boil for 4-5 minutes. Meanwhile, in another pan, bring water to boil and put the noodles in the pan. Leave the noodles to boil for 4 minutes or according to the instructions on the packaging. When they are cooked, drain the noodles and put them in the serving bowls.
Switch off the hob for the broth and add the miso paste, 2 tsp of soy sauce and the seaweed. Stir the broth until all the ingredients are incorporated. Pour the broth over the cocoa noodles.
Heat a frying pan and pour the sesame oil. Cut the tofu in pieces and toss them in. Shake the pan so the tofu gets coated with oil and starts frying. Wash and cut the spring onions. Put the tofu pieces on top of the broth, sprinkle the spring onion pieces.
Sprinkle a bit of black sesame seeds on top. The dish is now ready to be served.
Do you like Ramen? What do you think about Vegan Ramen?